A gaggle of New Yorkers (along with imports) visited Interevco's offices this evening to enjoy the hosting talents of Paul DeBraccio and his delightful thematic selection of small producer champagnes. We found two doubles among the 14 different champagnes (or virtual champagnes) delivered by the group this evening. Overll, I think we were all delightfully surprised by the delicious diversity of champers consumed, all at very affordable price points (anywhere from $30 – $70) for non-vintage, vintage, and rose. The moral of the story? Veuve Clicquot, hovering around $40/bottle, is NO MATCH for superiorly produced champagnes from the "heart" of Champagne.
Below please find a brief write-up of the champagnes we had this evening in order consumed: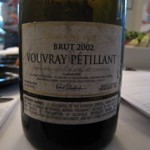 1) 2002 Huet (Loire Valley)
The Huet, brought by Nick Bumstead, is 100% chenin blanc, and comes from the Loire Valley. The group described it as citrus, candied, a little dirty, with straw, aggressive acidity, and linear minerality.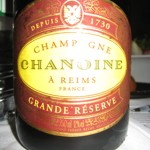 2) Chanoine NV
Stephanie brought this NV champagne. It had a strong nose, but finished tart with a flavor of baguette.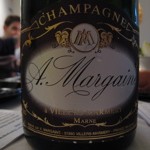 3) A. Margaine NV
Stephanie, hedging her bets given her track record of wins for wine of the night, also brought this champagne. We described it as flat, with hints of bitter golden apple, big bubbles, and a prosecco-like finish.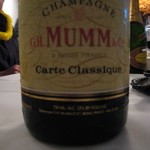 4) G.H. Mumm NV
Aurelie brought this "done by the book" champagne. It has what you your mind might expect champagne to taste like, but no major flavor variation or color to the juice.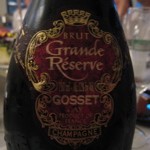 5) Gosset Grand Reserve NV
Michael Hirshoren brought two bottles of this producer, one of the oldest in Champange, to our dinner. We described it as tinny, with a big attack on the palate but a very short finish. I've had the '99 Gosset and brought it to a champagne dinner with our West Coast counterparts, so I was surprised that this one really didn't stand up in the way some others did.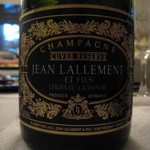 6) Jean Lallemant Cuvee Reserve NV
This was the crowd favorite of the non-vintage (NV) champagnes. Both Paul and Tina Ravitz shared this one with us, so we're not quite sure whose bottle we drank, but the tie in this case goes to both runners. This bottle of Lellemant is made from 90% pinot and 10% chadonnay grapes. It was "winey", full-bodied, very full in the mouth, and had a wonderful color.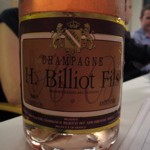 7) H. Billiot Fils (Brut Rose) Grand Cru
Nick, another overachiever who hedged his bets with 2 bottles, brought this delicious bottle of rose. The group described it as delicious, port-like, elegant, rich, deep hints of raspberries, and with a long finish. This was a really lovely bottle that could give a Billecart Salmon Rose a run for its money.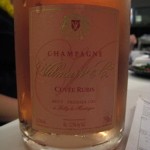 8 ) Vilmart & Co, Cuvee Rubis (Rose)
Our host for evening Paul DeBraccio contributed this bottle. It was a bit overly acidic and sharp, but the full flavors were trying to come out (a little time would help…but with time, poor champagne gets warmer!). It had great potential energy, but little kinetic energy in the mouth. It would be interesting to open this one for 2 hours in a chilly bucket and give it another chance.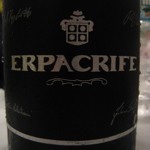 9) Erpacrife (Red, sparkling)
This ringer sparkling wine came courtesy of Gabrio Tosti di Valminuta, the owner of De Vino, a specialty Italian wine shop in NY. This sparkling Italian wine is made from the Nebbiolo grape (kissing cousin of pinot). It was described as tannic, peppery, and with a hint of burnt rubber. This was a great flavor explosion, and a wonderful treat. Gabrio is the only person the US that has access to this sparkler, and the group really liked this one.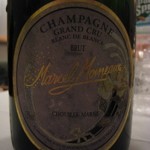 10) Marcel Moineaxu (blanc de blanc) Millesime 2000
This was the first of our vintage champagnes, brought by Jim & Jocelyn Meskauskas. It was yeasty, with ginger, vanilla frosting, and as if someone took a buttercream frosting from a wedding cake and turned it into a champagne.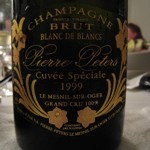 11) Pierre Peters Cuvee Speciale 1999
The second of our vintage champagnes was brought by Eric Porres (me). The first impressions were quite strong on this one: chalky, salty, rustic, like biting into a salted butter brioche. This particular champagne is made from grapes of 70+ year old grapes planted on 40 acres, and the vineyard sits right next to Salon and Krug, so it is in good company. I'd love to see this go up against those producer blind to see how it fares someday. 2nd favorite champagne of the night.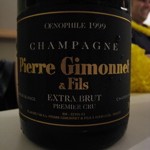 12) Pierre Gimonnet & Fils 1999 Extra Brut
I can't recall who brought this vintage champagne, but it was OK. The group described it like biting into a dry biscuit and not good with dessert (which is what were having by the time this one was poured). Like the Mumm, this champagne was done by the book but with little personality.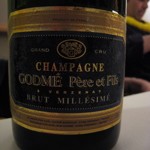 13) Godme Pere et Fils 1999 (Millesime)
Gabrio also brought this wonderful bottle of vintage champagne. Mike Edelhart described this champagne as "as if it walked in for central casting for champagne." It had a cheesy nose, focused on the palate, with feminine hips of flavor and a long, long finish. 1st favorite champagne of the night.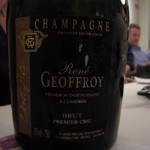 14) Rene Geoffrey Brut Premier Cru (2000)
Our last champagne of the evening with was vintage courtesy of Jim & Jocelyn. We described it as a Chinese dragon (big on top, with a long small tail) and having flavors of candied beach.

So, overall, we had a diverse range of champagnes, flavors, vintages, and aspirations to be the champagne of the night. The TOP honor with 5 votes went to Gabrio's Godme, followed by Eric's (mine) Pierre Peters with 4 votes (oddly enough, Gabrio voted for mine and I voted for his!).
I would be remiss to exclude the TERRIFIC food, consisting of appetizers of shrimp, crabmeat puffs, and small doughy/vegetable poppers, followed by cheese, grapes, crackers, a selection of fruit, a mesclun salad with endive, entrees of chicken, pistacchio crusted salmon, and sides of roasted potatoes and vegetables, and waist-line expanding pastries. I'm sure I've missed something so feel free to comment.
Note: Sabering a champagne bottle is NOT as easy as it might seem. We'll have to practice this one…lots.
Our next event maaaay occur towards the end of July and hosted by Gabrio. Details will follow. Happy bubbly to all!